people were Earlier Than Expected.


Click HERE to vote for this page as a Starting Point Hot Site.(It takes you 7 seconds or less)




: POSIES PLAN -FINAL- ALBUM DETAILS HERE

: are you looking for rare posies stuff? Kelly Minnis can help you


LYRICS for 'Sad To Be Aware' & 'Terrorized'
More additions on the articles page
More song interpretations
The discography is nearly finished



ANYONE WHO COMES TO THIS SITE HAS TO click here
( leave your fav Posie song etc etc )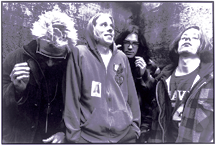 this page is dedicated to :

Ken Stringfellow ( vocals, guitar )
Jon Auer (vocals, guitar )
Joe Bass ( bass )
Brian Young ( drums )




because its going to rock!!

coming soon...POSIE QUOTE OF THE WEEK/ QUIZ / 'NAME THAT POSIE TUNE'/ DISCOGRAHPHY / FAV SONG POLL/ "MY POSIE COLLECTION" / AN INTRODUCTION TO THIS PAGE / MORE INTERVIEWS
and more!

7/8/97 - construction is slighty slowing down till august 10th but I may be checking my email every few days.

I really need the help so please mail me
here

you can also help by sending me your Posie reviews/articles here





DISCLAIMER
This is an unofficial fan site. All copyrights belong to their owners.